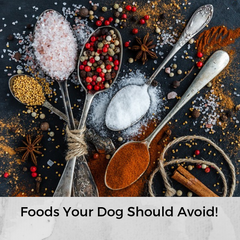 Foods to Avoid
Sam Anderson | Bubu Brands
Foods that are perfectly suitable for human consumption can be completely toxic to your dog, even common household items! Here are some foods you want to avoid:
*Keep in mind, some ingredients on this list may not toxic to dogs, but the food can pose a threat when incorrectly digested. 
NO! - Foods
o   Can block the esophagus or tear the windpipe if not chewed completely
o   Primarily the pit, choking hazard and if consumed could cause diarrhea and vomiting
o   Different proteins and fat levels compared to typical dog food, will cause an upset stomach and can lead to obesity
o   Very poisonous, the darker the chocolate the more toxic to consume
o   When chewed can splinter and pose a threat for internal injury, gum and teeth damage
o   Very poisonous, can cause kidney damage leading to kidney failure
o   Very poisonous, can cause weakness, vomiting, tremors and hyperthermia
o   Very poisonous, contain disulfides and sulfoxides that can cause anemia and damage red blood cells
o   High levels of consumption can lead to diarrhea, tremors or even seizures
Sources:
Writers, Staff. "Human Foods Dogs Can and Can't Eat." American Kennel Club. N.p., 03 Dec. 2015. Web. 13 June 2017. <http://www.akc.org/content/health/articles/human-foods-dogs-can-and-cant-eat/>.
43 dogs (1992-2002) Eubig PA, Brady MS, Gwaltney-Brant SM, Khan SA, Mazzaferro EM, Morrow CM. J Vet Intern Med. 2005 Sep-Oct;19(5):663-74.
"PetMD, LLC." PetMD, www.petmd.com/dog/emergency/digestive/e_dg_grape_raisin_toxicity.
"What Foods Are Toxic for Dogs." CanineJournal.com, CanineJournal.com, 1 May 2018, www.caninejournal.com/foods-not-to-feed-dog/.